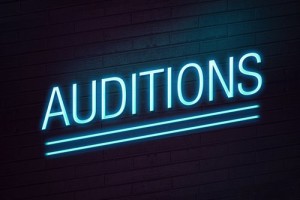 The Bible may have had 7 Deadly Sins but as actors you have 10 to avoid the next time you get the call to auditon. I spent 3 years working in casting. In that time I saw hundreds of actors. Some of them were great auditioners and some of them were not. When you're beginning a career as an actor you're going to be auditioning…a lot. It's just part of the game. Knowing what to expect before, during, and after you're in the room will hopefully set you up for success the next time your agent calls with an audition.
1. Thou shalt not come unprepared-This is the #1 cardinal sin as far as I am concerned. If we go out of our way to select you out of the thousands of hopeful actors to come in and show us your stuff, you had better be prepared. You must know, understand, and internalize the material. It's preferable if an actor is off book but if you just got the sides an hour ago we won't fault you for flubbing a line. If you need the sides use them. We want to see your acting skills and if you need your sides for an initial audition so be it. Be off book for ALL callbacks.
2. Thou shalt not disrespect anyone inside or outside the audition room. Do you have a problem with authority? Did you have a horrible break up with the receptionist at the casting office? Do you find this material to be the worst you've ever read?  Nobody cares! You are a professional who has the opportunity to ace an interview that could net you thousands of dollars or more. Treat everyone with respect. Do not bad mouth anyone and know that your audition starts from the second you walk in the building and ends the second you get back in your car.
3. Thou shalt not ignore direction. Not every director or casting director is going to give you direction you agree with. Heck, sometimes that's half the fun. Dive in head first and do your best to assimilate their notes into your performance. If you don't understand what they're saying, ask questions. If you can't take notes in a casting room you won't get the chance to take them on set.
4. Thou shalt not ask what we are looking for. Though we may have sketches of the character, character breakdowns and the writer in the room we most likely won't know exactly what we're looking for until we see it. Here's where you come in. Make a choice and commit to it. Once again, if you have questions about something that doesn't make sense in the script, feel free to ask. But don't expect us to do your character prep work for you.  I'd prefer an actor to come in and make a bold choice than no choice at all.
5. Thou shalt not dress inappropriately.  We want you to look like you belong in the world of the play. Does that mean you have to dress up in period garb? Not necessarily unless the audition notice demands it. If you're playing a wealthy Madison Avenue business exec in his office, wear a suit. If you show up in sandals and a beanie I know you didn't read the script/sides.  For a commercial, If you have a baseball uniform to go in for a baseball player, wear it.  Some commercial casting directors don't have much of an imagination or the time to use it and need to see exactly what you look like in the role. They want to be able to show the client that you came in and fulfilled their vision of the character. Use your best judgement and look the part.
6. Thou shalt not improvise unless you ask. Scriptwriting is hard. Someone slaved over those words you are about to say. Don't throw them out, paraphrase, or use your own unless it is asked for explicitly or you ask and the room is cool with that. If it seems fitting I like asking, "Is it ok if I make the script my own?". If you are doing sitcom, Shakespeare, or Sorkin don't ask.
7. Though shalt not talk yourself out of the job. I've seen it more than once; an actor nails the audition and we are practically ready to slide a contract across the table to him. Then when we ask questions to get to know him, he says his favorite thing to do is smoke pot or he makes a racist/politically insensitive comment. Welp, no contract for you buddy. We are constantly asking ourselves, if I was the director, does this person seem like someone I could spend four grueling weeks with on set? If the answer is no it doesn't matter how good the actor is they are a liability and will not get my casting vote.
8. Thou shalt not ignore or misuse social media. Your online presence matters more and more everyday. You need a website and you need to be at least mildly active on Facebook, Twitter, and Instagram. If two actors are equally right for the role but one has 100 followers and the other has 10,000 followers who do you think we are going to cast? Followers are buyers and we can put a price tag on that. Furthermore, do not take to social media to rant about the hour you sat in the waiting room or the fact that the CD was eating while you were in the room. It will get back to them. I realize that social media and marketing may not be all that fun but they are part of the business and you are a businesswoman. Start acting like it.
9. Thou shalt not forget to follow up. Postcards are dead, don't bother. If the casting director you just auditioned for has an address, try sending them a hand written thank you card a week after your audition. You could always throw in a $5 Starbucks gift card for good measure. Writing with a pen is becoming a lost art now and the personal touch will make a difference. Thank them for their time and mention something specific that happened in the room. Tell them you appreciated their feedback and let them know if you have a role in a movie or TV show they can see within the next month. You are building a relationship here and showing gratitude will likely keep you in their memory for the next role they cast.
10 Thou shalt not dwell on the audition once you finish. The best thing you can do mentally once you finish an audition is forget it and move on. You messed up your line? You found out at the audition that your role was cast? You did a crappy job?  In the grand scheme of things, one audition doesn't really matter. Take a minute to debrief once you're back in your car. Write down three things that went well and one thing that you could improve in the future. Take it easy on yourself and celebrate the fact that you got to practice your craft if nothing else!  For those few minutes in the room, that role was yours and no one elses. Go treat yourself. Seriously. I really like 0 Calorie Guru energy drinks from Whole Foods (despite how bad energy drinks are for me). After every audition or pitch meeting, good or bad, I go get one. It's my way of saying to my subconcious, "Hey, Great job! When you do work you feel pleasure and get rewarded". Over time this will make your auditions even more enjoyable. Try it!
There you have it, 10 Deadly Sins of Auditioning to avoid. Follow these guidelines to ace your next audition. Don't get in your own way and enjoy every opportunity to show your stuff. Break a leg!
Question: What other deadly sins of auditioning should be added to the list? Let me know in the comments below.
Please like and share.  Thanks!
All my best,
Martin Soole
COO Beyond Reality Entertainment